This is only the second ever time in 22 years that Pantone, a global color authority, has made the bold move of announcing two colors as color of the year.
And the two colors to look out for the new year are grey and yellow.
'The selection of two independent colors highlight how different elements come together to express a message of strength and hopefulness that is both enduring and uplifting, conveying the idea that it's not about one color or one person, it's about more than one,' says Leatrice Eiseman, Executive Director of the Pantone Color Institute.
In architecture, this palette (grey and yellow) combining playfulness and solemnity has been used in social spaces, domestic spaces, care spaces, and more to communicate similar themes of resilience and positivity.
Let's look at some projects with similar palette to draw some inspiration.
The LEGO Group, Shanghai | Robarts Spaces
The yellow creates a sense of friendliness and play correspondent to the company represented. Yet the greys maintain the reality of a professional workspace.
https://officesnapshots.com/2020/07/01/lego-offices-shanghai/
DSC Select Store | Say Architects
A retail store featuring multiple upscale fashion brands in Jiaxing, China. The unusual yellow accent pieces and stripped grey walls co-contribute to the unusual avant-garde design of the space.
https://retaildesignblog.net/2020/12/15/dsc-select-store-by-say-architects/
Tulip – Your Place at the Table | ADHOC Architects
Located downtown Montreal, the initial mandate from the Partenariat du Quartier des Spectacles was to produce an artistic installation that would attract and stimulate traffic while maintaining social distancing measures.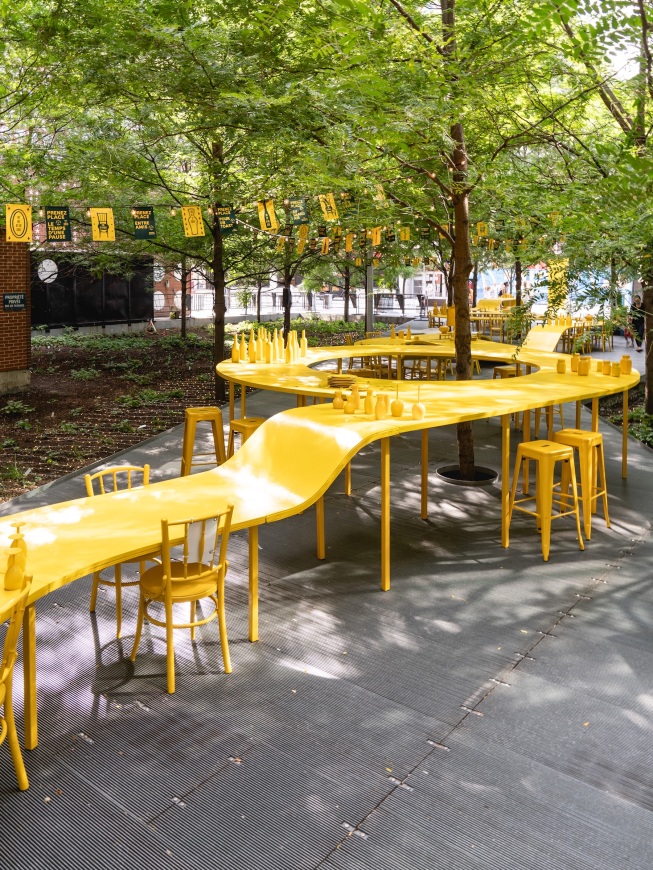 https://mooool.com/en/tulip-your-place-at-the-table-by-adhoc-architects.html
Escape Vehicle #9 | Studio Morison
This lightweight demountable shelter is designed for an imagined future when nature reclaims the planet, leaving humans to "tread quickly and lightly on the land they occupy".
https://www.dezeen.com/2018/07/30/escape-vehicle-9-ice-by-studio-morison/